How to build a Pinwheel
Step 1: Project Preparation
Gather the materials needed for making a pinwheel. If you are doing this project with a group of children, pre-cut the 6″ (15 cm) paper squares.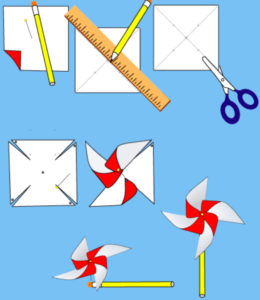 Step 2: Cut Square
Cut a 6″ (15 cm) square of paper
Step 3: Cut
Use the pencil and ruler to draw two diagonal lines, corner-to-corner, that cross at the square's center. Mark the center point and mark a point 2¾" (7 cm) from each corner on the diagonal line.
Cut on the diagonal line from each corner up to the marked point. Erase pencil marks, except for the center point.
Step 4: Assemble
Using the straight pin, punch a hole in the center and at every other point (about ¼" from the tip.)
Poke the pin through one of the point holes and curl the point toward the center. Don't fold!
Curl each pierced point, in turn, toward the center and poke the pin through the holes.
Push the pin through the center hole of the pinwheel.
Holding the pencil on a flat surface with one hand, push the pin into the side of the eraser.
Step 5: Finish
You now have a pinwheel! Hold the pinwheel in your hand and swish it around. The pinwheel should rotate on the pin. Take the pinwheel outside on a breezy day and see it whirl like crazy!
Tip: If your pinwheel doesn't rotate freely, it is probably rubbing against the pencil. You can fix this problem by inserting the pin into the eraser at a slight upward angle, or by slipping a small bead onto the pin before inserting it into the eraser.